Excellent séjour au domaine de Pémontier 11/8/2020 – Très bon accueil des propriétaires, toujours disponibles en cas de besoin pendant la semaine – Linge de lit, serviettes de toilettes et de piscine fournis – Gites spacieux et très bien équipés – Superbe piscine, très bien sécurisée pour les enfants qui ne savent pas nager – Très beau domaine
Une très belle semaine au Domaine de Pémontier 28/8/2020 – Mes amis et moi avons passé une semaine au domaine de Pémontier et cela a été une très belle expérience. Non seulement l'accueil et le service client de John et Lesley, mais le domaine est un havre de paix! on s'y sent comme à la maison. La piscine est sécurisée et magnifique. ce fut un super séjour pour tous!!!
Great location, lovely gite and lovely hosts 24/9/2018 – Situated 10 mins from airport and so easy to find John and Lesley were helpful and friendly but not intrusive They have thought of all the detail a customer wants. We all loved the holiday and will definitely return. Thanks you both for a great holiday
A wonderful relaxing time
6/8/2017 – We were two families sharing the house, each comprising a couple and two children. The gite was a great size for us – plenty of room for lazing around and eating together. John and Lesley, who live next door, were wonderful hosts and were happy to answer our questions on where to get the best wine, etc. It's also located near some very beautiful places and amenities. A great place.
Superb holiday
24/5/2014 – It has taken a while to get around to writing about our time at this fabulous place. We went with a gang of friends, so we took up full occupancy. John and Lesley looked after us in a most amazing way and we wanted for nothing. From the swimming pool during the day to the BBQ's and log burners in the evening, nothing was to much trouble. It is also an ideal location for exploring the region, which has a fascinating history as well as beautiful surroundings. We have never stopped talking about it with our friends and the gang and hope to make it a bi annual event. We cannot recommended this place highly enough.
Memorable
29/7/2016 – As a family of seven we stayed for two weeks in the Vieille Grange. Owners John and Lesley were very welcoming. We found the location and facilities to have been accurately described in the listing. The accommodation was clean, well maintained, well equipped and perfectly located to offer privacy for a relaxed family holiday. The thick walls and high spaces kept a reasonably even temperature inside the building, which we found essential in the hot weather. The upstairs accommodation was comfortable and well provided for. The ground floor accommodation was well laid-out, allowing all spaces both internally and externally to be used. Sun loungers, umbrellas and shaded areas were provided around the swimming pool and hedges grown along all sides formed an ideal windbreak. Children's playthings were provided for use in the swimming pool. The extensive grounds and swimming pool were augmented by views over a beautiful landscape providing an excellent peaceful setting for the holiday. Conveniently situated near the airport, and between Bergerac and Issigeac, it was an ideal location for exploring the wine region. We found Issigeac with its medieval architecture, restaurants and markets to be an absolute delight. The area offered something for all members of the family with lots of activities for children and places to visit. We look forward to staying at the Domaine de Pémontier again.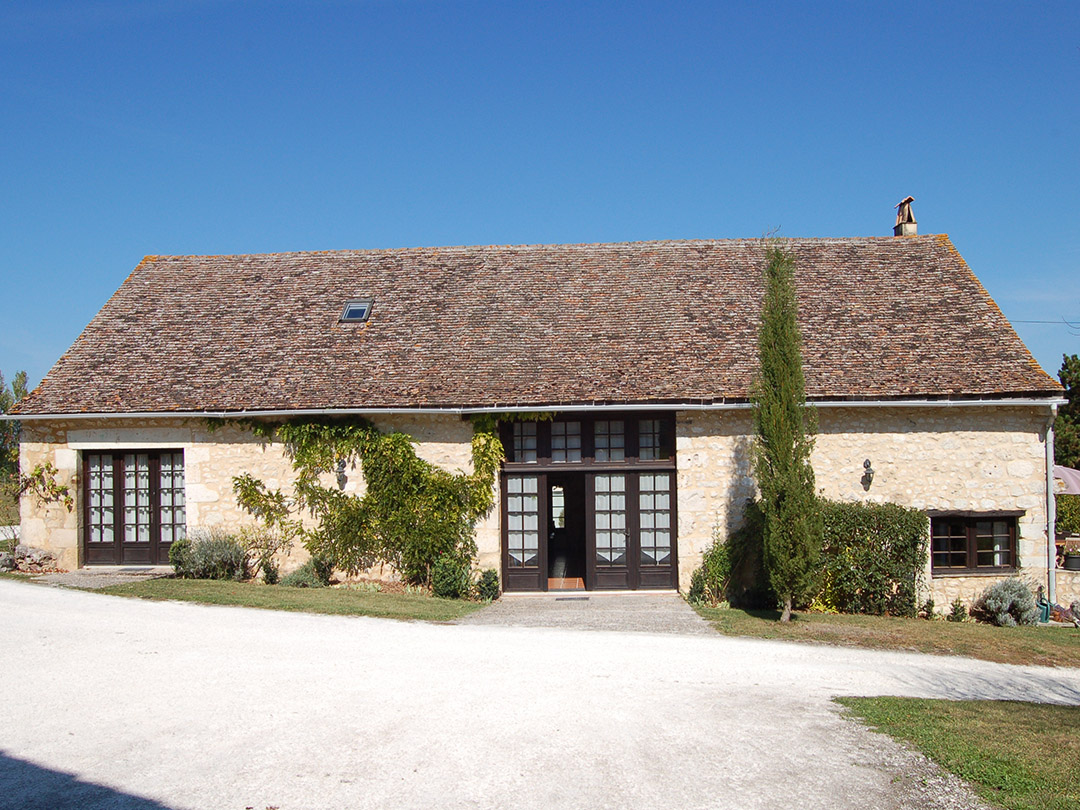 A magical holiday in a magical location
27/7/13 – A wonderful location with stunning views and beautiful sunsets, La Vieille Grange was the perfect venue for a relaxing family holiday. The Grange itself was great in every aspect: from the space, cleanliness and tastefully decorated rooms, through to the general facilities and the exceptional warm hospitality from owners John & Lesley. The large and well appointed swimming pool where the five children in our group spent many hours splashing as children should on their summer holidays was used by us every day. There were pool toys plus plenty of sun loungers for all the group to relax on and soak up the rays within the secluded private garden. The local attractions were great, and again, John & Lesley were most helpful in providing tips on restaurants, child-suitable attractions and local towns to visit. Bergerac was a mere ten minutes away and a beautiful town to visit; equally stunning were the views from the Chateau of Monbazillac – and the free wine-tasting was a bonus! The Sunday market at Issigeac was quite the most enjoyable we'd ever experienced and had something for all members of the family – make sure you go with cash for gifts, food, housewares, children's entertainment and some small change to sit down over a coffee + croissant whilst soaking up the atmosphere. La Vieille Grange was a home-from-home in a beautiful part of France and we could quite happily have taken up residence; it was with regret that we had to wave farewell at the end of two glorious weeks.
Fabulous house in a great location
21/7/2016 – We stayed at la Vieille Grange for a week in July 2016. We are a family of 4 so had plenty of spare room in this lovely property. It caters for 8 and is very spacious so even if fully occupied you would all have enough space. Everything about this property is lovely, from the wonderful terrace where you can enjoy the views, to the fantastic pool, which is clean and large. There is another rental property and the owners house on site but privacy was never an issue. The house itself is a converted barn with a huge living area and open plan kitchen. There are several settees and armchairs and a very large table with plenty of seating and there is wifi and Sky TV. The kitchen is well-equipped and there are spacious bedrooms with comfy beds, as well as plenty of bathrooms. The owners, John and Lesley were delightful, always on hand if needed but never intrusive. The area is fantastic, probably the best we've stayed in and we visit this region a lot. The nearest village, Issigeac is an absolute delight: stunningly beautiful without feeling touristy. The Sunday market there is really good and we also enjoyed the night markets. Bergerac is very close (10 mins by car) and is also a lovely town with lots of restaurants. Vineyards abound at varying prices so shop around. We found several that sold very reasonable, good quality wine and went home with a car full. If you're coming by plane the airport is 10 mins away and car hire is available. The views are great from the property and we enjoyed a morning croissant while watching the red squirrels in the garden and the deer in the field across from our terrace. We were also really lucky with the weather as we had hot sunshine every day. All in all we had a fantastic holiday and intend to book again for next year!
Perfect Gites in SW France
31/5/2014 – For a second year in a row, our extended stay at Domaine de Pémontier was « extraordinaire. » The two gîtes are located on a gorgeous piece of property conveniently situated between Bergerac and Issigeac – perfect for exploring the wine country, the bastides, and the incredible local cuisine. Last year we stayed in the smaller gîte, Le Pigeonnier, and absolutely loved it. It is incredibly charming, spacious, and accommodated 3 of us very comfortably. We would have stayed in it again this year, but it was already booked for part of our travel dates. So, instead, we stayed in the larger gîte, La Vieille Grange. La Vieille Grange is a luxurious place to stay. It is beautiful, comfortable, and well-appointed. It's more like a home-away-from-home than a vacation rental, which makes it a perfect place for families. For those that want a relaxing vacation, the poolside at Domaine de Pémontier offers the perfect setting. If history and architecture are of interest, this is the best base from which to do your touring. If you are interested in food and wine, you are in foodie heaven and the facilities at La Vieille Grange will even allow you to cook up some of the delicious offerings from the local outdoor markets. Whatever your reason for visiting this area of France, you will be assured of a fabulous stay here. Lesley and John are fabulous hosts. They are truly interested in ensuring the comfort of their guests. They are also very knowledgeable about this area of France and can recommend some lovely day trips and great restaurants. We highly recommend staying at Domaine de Pémontier to anyone planning a visit to this part of the world.
A real home from home 1/9/2020 – Le Pigeonnier at Domaine de Pemontier was the perfect home for our family for 2-weeks. The cottage was beautifully furnished and everything we could ever need was provided. The swimming pool is wonderful and we enjoyed the tranquillity of the area. John and Lesley were the perfect hosts and went out of their way to look after us and helped us settle in and learn more about the area. Although the cottage is located in a rural and peaceful spot it is only a couple of minutes away from Issigeac which is a beautiful little village with a fabulous Saturday market, and Bergerac is only 15 minutes drive away. All in all a wonderful spot and highly recommended!
Heaven in earth!!! 30/6/19 – This is a piece of heaven, beautiful Gite (4 persons) patio and bar-b-q area lovely, with a ''fabulous'' pool area…. the gardens are well kept. This is only 10 mins away from the airport, (car a must) driving was no problem along easy negotiable roads, some gorgeous little villages all within an hours drive, the owners ( John and Lesley) could not be more helpful, nothing was a problem!! Thank you for a fabulous stay…!!!! X
Perfect in every way
4/9/2017 – The Gite itself is perfect, SPOTLESSLY clean, nice and quiet, centrally located in a rural area whilst having easy access and well placed to visit the area and it's like being in your own home with EVERYTHING thought of and provided for. Our hosts, John and Leslie, were very helpful, nothing was too much trouble for them, both before and during our stay, quick to respond to any queries we might have before our stay and with lots of good ideas regarding places to go when we arrived. We ate in quite a bit, as the kitchen is well equipped but also went to a few local restaurants, which we thoroughly enjoyed. The local village, Issigeac, is quite the most beautiful place you are likely to see, just a few miles away, in fact, we walked to it across the fields and Bergerac, a bigger town, maybe 10 miles. Both are well worth a visit, with local markets and lovely buildings and every way you turn there is a Chateau. The comments book are full of really positive comments, with one couple from New Zealand, staying 10 weeks – all I can say is lucky them, as we would have liked to have stayed 10 weeks too! So we definitely recommend John, Leslie and their lovely Gite .. and of course the local wine! Tim & Jan
A thoroughly enjoyable week in a rural location
10/9/2016 – This is, without doubt, the best gite we have stayed in in France. Everything you could possibly need and very clean, well-maintained and comfortable. The on-site owners were warm and friendly and attentive to our needs, without being intrusive. We will definitely return here and would recommend it to friends and family.
Fantastic holiday
6/7/2013 – Cannot say enough about how relaxing and wonderful was our holiday at Domaine de Pemontier: from the quality of the accommodation, to the fantastic location, the brilliant pool and the warm and helpful welcome from John and Lesley. Three generations spanning the under ten to the over seventies loved every moment of our stay. We all enjoyed the pool and the grounds with all the interesting things to see and do on the doorstep. Issigeac is a jewel. John and Lesley were wonderful hosts from our initial reservation to the lovely touches of welcome baskets and loans of badminton nets and advice on things to do or places to visit. Present but absolutely not invasive, a real joy. We aim to return but thing we might want to book early to do so!
Great holiday rental
10/8/2014 – Had an excellent holiday at Domaine de Pemontier. Le Pigeonnier is a converted pigeon loft – think French pigeons lived in luxury judging by the quality of the building. 2 bedroom property was really well equipped. John and Lesley had thought about the basics to make a holiday easier – provision of miscellaneous groceries on arrival was much appreciated – milk, fruit juice, butter, wine, etc. Really comfy beds and decent linen and towels too . Excellent location just 10 mins drive from Bergerac airport. Large and spotlessly clean swimming pool with loads of umbrellas and a large sun canopy for shade. Highly recommended.
Relaxing Break
3/8/2013 – Had an excellent fortnight staying in Le Pigeonnier. The accommodation is spotless, spacious and very well equipped for a family of 4. The patio area with gas BBQ was lovely, very secluded and sheltered. The pool & surrounds are equally well maintained & secluded, with ample space & sun loungers for both properties. The properties are in a peaceful, rural area but with quick and easy routes to the main Dordogne attractions. We, also, enjoyed cycling in the local area using the quiet minor roads & bridle ways. The nearest small town of Issigeac, has an excellent Sunday market, weekly evening food market (cheap evening meal) & Medieval Banquet. John & Lesley are excellent hosts, nothing is too much trouble to them, and living on site means they are available to provide advice when required but each property is very private. We hope to visit again!
A wonderful place to stay
7/8/2017 – This place is a little piece of French paradise! 4 of us stayed for 10 nights in the smaller gite and hired a car from Bergerac airport (which is an easy 10 min drive away). We were welcomed by Lesley and John and shown around. Throughout our stay both were available for advice and there were a good amount of local leaflets and also an information file in the gite (very used by us!!) The gite was beautiful and very cosy, with plenty of space for 4 of us. The kitchen had everything we needed and we even had a little welcome basket of goodies. The beds were comfortable and the shower was quite powerful. There was a hairdryer, iron, washing machine & dishwasher and gas BBQ. We loved the patio outside our bedroom, which was a real sun trap all day – we had many BBQs there. The weather was a little disappointing however we had enough good days to be able to lounge by the stunning pool area and enjoy the garden (there was badminton and bikes available should you want them). Just to the right of the property was a nice walk through the sunflower fields. The ideal thing about this place is its location, though it feels in the middle of nowhere and very peaceful. The local village – Issigeac- is a 5 min drive away, with a couple of small general stores, 3 boulangeries and some lovely restaurants (the pizza place does lovely take away and La Bruceliere was fantastic, but you need to book). We loved the Sunday market and the Thursday night market. Monbazillac is a short drive, with its lovely chateau, and the small village of Eymet is worth a visit. Bergerac is 10 mins away by car, with some good supermarkets on the way. Bergerac is a beautiful town, with a pretty river and wonderful old town, well worth a wander. The cathedral is breathtaking inside!!! We had 2 nice meals there – La Rouge et La Verre and Table de Marche (strange food combinations and more expensive but good!). We also went further afield to see the beautiful Jardins de Marqueyssac (stunning views) and took a canoe trip down the river with Canoeric (recommended by John), both over an hour away. 2 of us also went to St Emillion and really enjoyed it there. We also did a little wine tasting around the area. Overall I would highly recommend this property for its location, peace, facilities and proprietors, and we definitely intend to stay there again!
Truly Amazing
22/7/2013 – Le Pigeonnier was a fantastic cottage that surpassed any expectations we had. It was clean, spacious and very tastefully furnished. The facilities were perfect and such a beautiful pool. The grounds were immaculate and clearly loved by John and Lesley. John and Lesley made our holiday, so attentive, informative and good company. The local area is great for exploring and no shortage of towns to visit. Issigeac and Monpazier were amongst our favourites. Plenty of walking, cycling and canoe facilities within driving distance. Cannot recommend this holiday enough.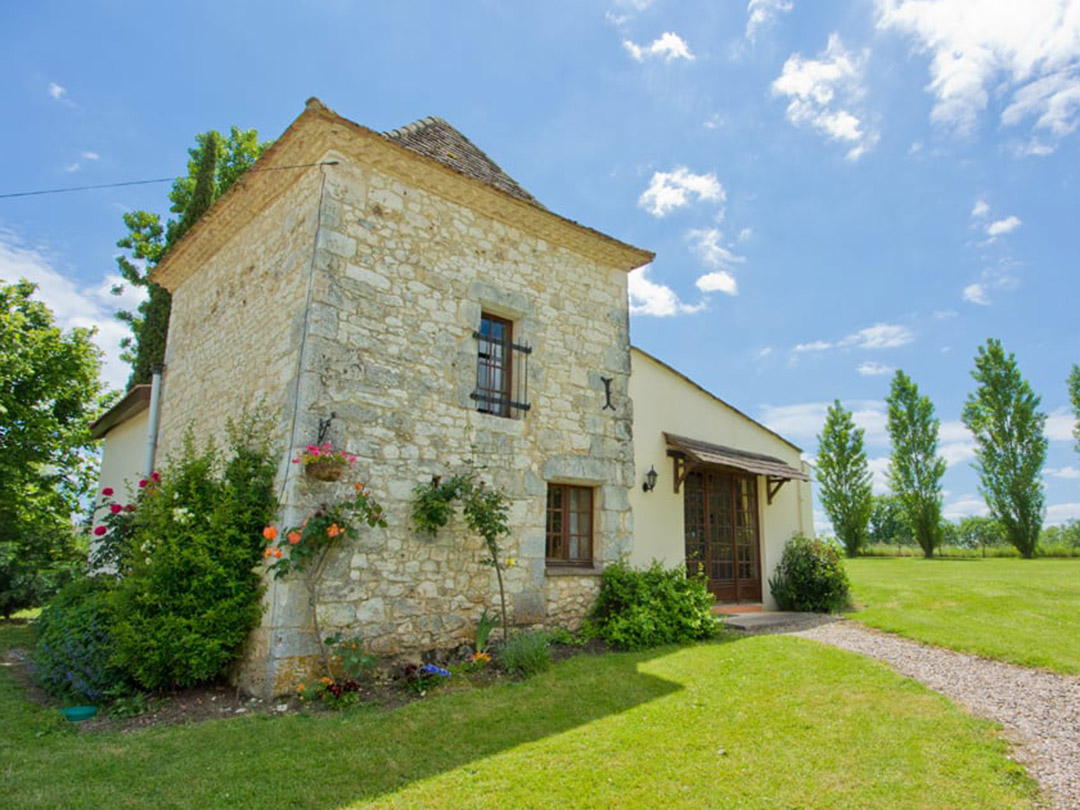 Fantastic Gites with beautiful surroundings
20/9/2016 – We stayed in Le Pigieonnier for 7 nights and wished we had booked for longer. We had a welcome basket on arrival which had all the necessary bits for breakfast and some lovely wine thanks. The gite had everything and more we could have asked for and John and Lesley went out of their way to help us out with child gates and pushchairs so we didn't have to take any with us which was such a help as we have 3 yr old twins which come with a lot of baggage! The gite was very clean well laid out and had lots of outdoor space for bbq's, relaxing and for the kids to run around. The pool is a great size and there was plenty of seating and shade around it if needed. It is a great base for exploring as there is so much to do and see nearby, aswell as some lovely restaurants, cafés and shops a few minutes car drive. Only a 15 min drive or so from the airport which is always a bonus. We will certainly be returning and recommending it to family and friends. Thank you for a lovely and relaxing stay.
A wonderful relaxing time
23/3/2013 – Our stay in St Cernin de Labarde was just perfect. We booked into Le Pigeonnier and had that holiday feeling as soon as we arrived. John and Lesley made us extremely welcome and we were particularly impressed with the superb accommodation, its stunning views and peaceful location. If you are after the finest hospitality, a slice of French living and beautiful countryside then this is it. We are already looking forward to our next visit in 2014.
Lovely stay
22/5/2013 – Had a short break with my daughter to visit the area. All arrangements were totally efficient , and flying direct from Southampton couldn't have been easier . The weather on arrival was fantastic but changed quickly so unable to use the pool unfortunately. Hired a car and spent few days exploring the beautiful countryside. Accommodation in the Pigeonier was fantastic, every need catered for and all facilities of the highest quality . Spotlessly clean too. John and Lesley were great hosts and very helpful . Look forward to staying again , and would highly recommend .
Un lieu où se ressourcer 23/8/2020 – Nous avons passé une merveilleuse semaine chez John et Lesley. Le Pigeonnier offre confort et intimité, il est idéal pour une famille de 4 (enfants de 10 et 12 ans). Le grand jardin ouvre l'horizon et permet d'admirer le ciel et les couchers de soleil. La piscine est assez grande pour que les résidents ne se gênent jamais, et assez longue pour effectuer quelques brasses. John et Lesley sont accueillants et chaleureux, et très respectueux de l'intimité de leurs hôtes. La localisation permet de visiter châteaux, grottes et bastides aisément. Un endroit qui offre multiples activités et repos !
A secret gem 7/8/2019 – This place is so special. We had a wonderful week staying here. The house was spotlessly clean and very well equipped. John and Lesley has thought of every eventuality, which created a very relaxing environment. The outdoor space is fantastic and we loved the beautiful, large pool. The property is in a quiet location, but handily close to Issigeac and some super vineyards.
A wonderful place to stay
20/9/2016 – Thoroughly enjoyable stay. The owners Lesley and John have high standards and were such fantastic hosts, being personable, attentive, professional, and knowledgeable about the region. I genuinely could not have wanted for more during our stay. Le Pigeonnier had bags of character, and balanced a rustic charm with all creature comforts and 21st century necessities. It was immaculately clean and all linen was provided. The properties are within vast and well maintained grounds, and the pool area, also very well catered with seating and shelter, was surrounded by dense greenery, offering good privacy. It was an excellent base to explore the regions vineyards, bastide towns and exquisite scenery. A couple of local villages, which had restaurants, general stores and boulangeries, were less than a 10 minute drive away, and a couple of huge supermarkets (in Bergerac's outskirts) were only 20 minutes away. Highly recommended.
A wonderful and welcoming house with stunning pool
6/8/2016 – We stayed for a week at Le Pigeonnier in August with our two sons (8 and 5). We had a wonderful welcome from John & Lesley who really are great hosts. We spent most of the week in the gorgeous pool (well set up for kids, with shallow steps to enter and a large flat shallow end, but also long enough to have a decent swim in). We dragged ourselves off the property a couple of times to explore the Dordogne region, with canoeing, vineyards and the lovely local town of Issigiac. We enjoyed a medieval evening in Issigiac square, plus a night market for great street food. The only potential downside is that the Pigeonnier is 400 years old and so has lots of character – the rooms are on different levels and the stunning attic mezzanine room is up a v. steep flight of stairs – wouldn't suit the elderly! Apart from that, I would definitely recommend this property, and we plan to return ASAP, hopefully for a fortnight next time! Thanks John & Lesley for being the perfect hosts!
Fantastic Stay
23/8/2013 – We spent 2 weeks at Domaine de Pemontier. The accommodation was clean and comfortable. John and Lesley provided excellent information before our arrival about the property, the local area and very clear travel directions. There was even a welcome basket of essentials for our breakfast on arrival. We had a fabulous time and hoe to visit again.
Pemontier – parfait!
23/5/2014 – The location and site are superb as a base for touring the region with Bordeaux or Roque Gageac only about an hour away, and plenty of other small villages, vineyards and chateaux much closer. Issigeac is 5 minutes away and is excellent on market day! In addition there is plenty to do and if you like walking, go-karting, river trips (we had ours from Beynac and viewed black kites wheeling overhead)…well the list is quite long and an internet search will no doubt tell you all you need to know. We flew to Bergerac from Southampton which was quick and easy, and hired a car from Buggs at the airport (pre-booked) which starts you with a full tank and asks that you end with a full tank rather than some which expect an empty tank on return so that you pay for a full tank of fuel. A car is a must for this site. We were part of a party of 10 so had both the Pigeonnier where we stayed, and the Grange where our friends stayed. The Pigeonnier is very comfortable with good amenities as described in the web page. The patio is a great suntrap for most of the day with table, chairs and parasol. The grounds and pool are excellent and everything you need is provided – no towels on sunbeds at 8.30 in the morning needed! There are bikes to borrow if you fancy a bike ride, but make sure you know how to use all of the gears as some of the hills are fairly steep – but ok in very low gears! If you have both gites, there is plenty of space in The Grange (where we actually stayed last year) for everyone to eat or get together both inside and on the terrace where BBQ's are provided. If not then there is plenty of personal space and they don't overlook each other. Food shopping is easy and there are two supermarkets in Bergerac about 15-20 minutes away. The local vineyard Clos de Verdot does good red and white wine and is 5 minutes down the road. If all of that sounds good, the best bit is the welcome and attention from John and Lesley – they are just superb hosts and nothing is too much for them. They keep the whole site to a very good standard and are around most times to help with anything you may want, including which places might be of interest or what the local attitude to driving may be (speeding is not welcomed and can be expensive, and full stop at a stop sign is expected!). Thanks to John and Les – we could not have asked for more and will be returning again!